Singapore-made anniversary rings
Moissanite rings delicately handcrafted by artisans in Singapore with over 40 years of experience, designed to celebrate your love without compromise.
Love on your own terms
luna symbolises the celebration of love without compromise. Our purpose lies in creating a new standard for the modern jewellery — one that is elegant, exquisite, yet does not break the bank.
OUR GEM
Moissanite gems by luna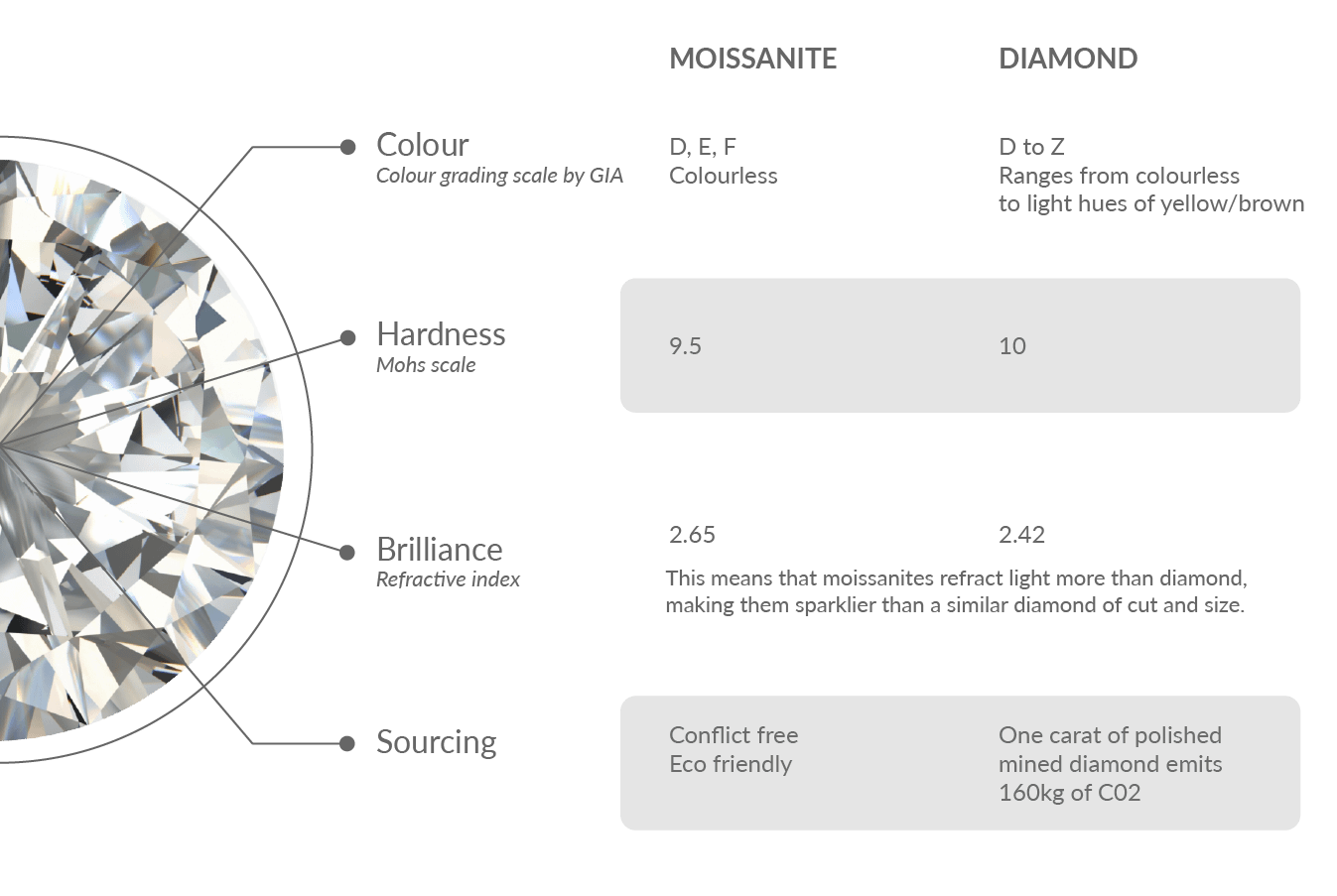 The world is changing, and so are you
We live in a world that is highly conscious of the impacts of our consumption, and that is what fuels luna's mission — to deliver a comparable alternative that does not compromise.
Our rings are paired with meticulously sourced lab-grown moissanite gems that seek to over deliver on key attributes of gem selection such as colour, hardness and brilliance.
of millennials in the world are considering buying lab-grown alternatives.
Our featured collections
All luna rings are paired with 18K gold in an exquisite range of settings.
luna

Classic

This iconic round-cut moissanite gem laid perfectly atop a classic six-prong setting promises everlasting beauty and brilliance.
luna

Alberta

A four-prong cathedral setting delicately paired with a gem-encrusted tapered band, ensuring the always-brilliant gem shines in glamour.
luna

Mia

The classic four-prong setting is elegantly harmonised with a bold twist — dazzling gems hugging an 18K rose gold band that is sure to turn heads.
OUR PROMISE
Why couples choose luna
Handcrafted by Singapore artisans
luna's rings are handcrafted by craftsmen in Singapore who pioneered the industry more than 40 years ago. Our design philosophy is founded on the delicate harmonisation of tradition and cutting-edge innovation, aimed at creating the perfect anniversary ring for you.
The fire and brilliance of a moissanite gem is unrivalled among all gems in the world due to its high refractive index. This means it sparkles brighter than any gem, and for much longer. In fact, moissanites are known for its everlasting sparkle, a fitting symbol for everlasting love.
Conflict free and environmentally friendly
Celebrate your love ethically with our lab-grown moissanite gems — a ring that promises minimal impact to the environment while symbolising your everlasting love.
"While keeping a local trade viable, luna also brings that eco-friendly element to appease the environmentally aware millennials who are about to take their next steps into the future."
"A sincere belief in the fact that love can be equally celebrated without a hefty price tag and sacrificing the environment is what fuels the team at luna, and they continuously strive to bring that to their customers everyday."
The luna Experience
Enjoy the best experience shopping for the perfect anniversary ring with luna.
Complimentary Shipping & Returns
We offer complimentary shipping, and a 30-day returns or exchange on all our orders. 
Free resizing
Enjoy a one-time complimentary ring resizing on all ring orders.
1-year complimentary warranty
All orders are by covered by a one-year complimentary warranty. Additional warranty can also be purchased during checkout.
Explore iconic anniversary rings